Plantar Fasciitis Support Brace (Pair)
Regular price
$0.00 USD
Sale price
$0.00 USD
Unit price
per
Sale
Sold out
Add 2 YR Replacement Insurance For Only
$0.00
$9.99
 These Comfortable support braces lift fallen arches, improve flat feet, and help plantar fasciitis. Help reduce heel, arch, ball of the foot, knee, hip, and lower back pain.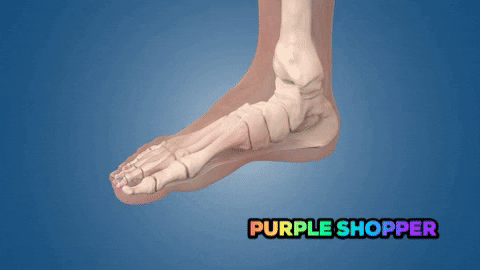 Give your feet a break with this cushioned arch-supporter! These will provide support, comfort, and peace of mind for you and your feet. They also provide compression using shock absorbing technology to relieve you're tired, stressed, and strained feet, thus taking pressure off the whole body. Our supports are patient tested in helping alleviate pain in your feet, knees, hips, and lower back. You can wear them in any type of shoe, sneaker, sandal, flip-flop, or even with you bare foot.
Natural Remedy – Great for fallen arches, flat feet & other foot issues.
Body Fixture – Helps reduce heel, arch, ball of the foot, knee, hip & lower back pain.
Comfortable – Great for daily use in any shoe!
One Size Fits All – No measurement required, it will fit all sizes.
WHAT IS PLANTAR FASCIITIS?
Planter Fasciitis (say "PLAN-ter fash-ee-EYE-tus") is the most common cause of heel pain. The plantar fascia is the flat band of tissue (ligament) that connects your heel bone to your toes. It supports the arch of your foot. If you strain your plantar fascia, it gets weak, swollen, and irritated (inflamed), which in turn causes the heel or bottom of your foot to hurt when you stand or walk.
Plantar fasciitis is very common for people of all ages. It often occurs in younger people who are on their feet a lot, such athletes or for those who simply stand a lot. It can happen in one foot or both feet.
Plantar fasciitis is caused by straining the ligament that supports your arch. Repeated strain can cause tiny tears in the ligament. These can lead to pain and swelling. This is more likely to happen if:
Your feet roll inward too much when you walk (excessive pronation).
You have high arches or flat feet.
You walk, stand, or run for long periods of time, especially on hard surfaces.
You are overweight.
You wear shoes that don't fit well or are worn out.
You have tight Achilles Tendons or calf muscles.
FREQUENTLY ASKED QUESTIONS
Question: Can I wear these while working out?
Answer: Yes definitely!!
Question: Does this item come as a pair. Or just one?
Answer: A pair
Question: Will these work for very high arches and or flat feet?
Answer: Yes they help with both
PLEASE ALLOW 3-4 WEEKS FOR DELIVERY!
FEATURES:
Natural Remedy – It's good to lift fallen arches, fix flat feet & other foot issues.
Body Fixture – Helps reduce heel, arch, ball of foot, knee, hip & lower back pain.
Comfortable – It's so good to wear for everyday use that you don't even have to wear shoes!
One Size Fits All – No measurement required, it will fit any sort of feet size.
HOW TO WEAR:
The support brace was designed to be worn with the fabric touching the bottom of your foot. It should be positioned mid-foot around the arch area. However, everybody is different and we all have particular areas of our feet that need more support than others so they can be rotated or moved back and forth depending on what feels most comfortable to the wearer. Just be sure to keep the pointed side facing towards your heel.
HOW TO CLEAN:
They are hand washable with mild soap and water. You should rinse it well and allow it to air dry. You can also wash them in the washing machine.
OUR GUARANTEE
We truly believe we carry some of the best products in the world, and we want to make sure we back that up with a risk-free 30-day guarantee.

If you don't have a positive experience for ANY reason, we will do WHATEVER it takes to make sure you are 100% satisfied with your purchase.

 Buying items online can be a daunting task, so we want you to realize that there is absolute ZERO risk in buying something and trying it out. If you don't like it, no hard feelings we'll make it right.
About Us

Hey there, welcome to LUCRUMM.COM!

We're the crew of expert product hunters who are on a mission to bring you the most innovative, exciting and downright awesome products out there!

Our team is made up of self-proclaimed gadget gurus, fashionistas, kitchen connoisseurs and novelty nuts who have dedicated ourselves to finding the coolest products around, so you don't have to. From everyday essentials to quirky and unique finds, we've got you covered!

We take customer satisfaction seriously and are committed to providing the best possible experience for you. That's why we offer the most affordable shipping rates, speedy delivery and secure online transactions, because we want you to have a hassle-free shopping experience from start to finish.

If you ever have any questions or concerns, our support team is always here to help you out. And if you just want to say hi or share a funny meme, we'd love to hear from you too! So go ahead, hit us up at support@lucrumm.com

We don't just want to be your favorite online store, we want to be your go-to crew for discovering the latest and greatest products that'll make you say "wow!" So come along for the ride and let's make shopping fun again!


Contact Us

Hey there, we're always here to help you out at LUCRUMM.COM! Whether you have a question, comment, or concern, we'd be more than happy to hear from you. Our team of friendly customer support agents are dedicated to providing you with the best possible experience.

So if you need any assistance, please don't hesitate to reach out to us at support@lucrumm.com. We always aim to get back to all inquiries within 24 hours, so you can count on us to be there for you when you need us.

And if you prefer to send us a good old-fashioned letter, you can do so at 225 Dyer St, Providence, RI 02903. We'll make sure to read it with a smile!

Thank you for choosing LUCRUMM.COM, we appreciate your business and are always here to make your shopping experience a great one.

Phone: (800) 861-0204
Address: 166 Valley St Building 6m Suite 103 Providence RI
Refunds

Return Policy:

We greatly appreciate your support and want to ensure your satisfaction with every purchase. To provide you with a seamless shopping experience, we have updated our return policy. Please review the details below:

Returns and Exchanges: We gladly accept returns and exchanges within 30 days from the date of purchase. If you're not completely satisfied with your order, simply contact our customer support team, and we will guide you through the process.

Unused and Unopened Items: To qualify for a return or exchange, the item(s) must be unused, unopened, and in its original packaging. Please ensure all tags, labels, and accessories are intact.

Size and Fit Concerns: We understand that finding the perfect fit can be challenging. If the item doesn't fit as expected, we now offer a hassle-free exchange process. You will receive a 50% discount on a new order in the size you require. Reach out to our customer support, and we will assist you in selecting the right size for your replacement item.

Refunds: Once your return is received and inspected, we will process the refund within 5-7 days. The refund will be issued to the original payment method used during the purchase.

Return Shipping: Customers are responsible for the return shipping costs unless the return is due to a defective or incorrect item. We recommend using a trackable shipping method to ensure the safe delivery of your return.

Please note that our updated return policy is no longer affected by the COVID-19 pandemic. These changes are intended to provide you with a fair and convenient shopping experience. If you have any further questions or need assistance, please don't hesitate to reach out to our customer support team.

Thank you for choosing us as your preferred shopping destination. We appreciate your trust and look forward to serving you again soon!